Prohome Estate reinvented real estate services with Google Workspace from True IDC
29 Nov 2022 //= substr($strYear,2,2)?>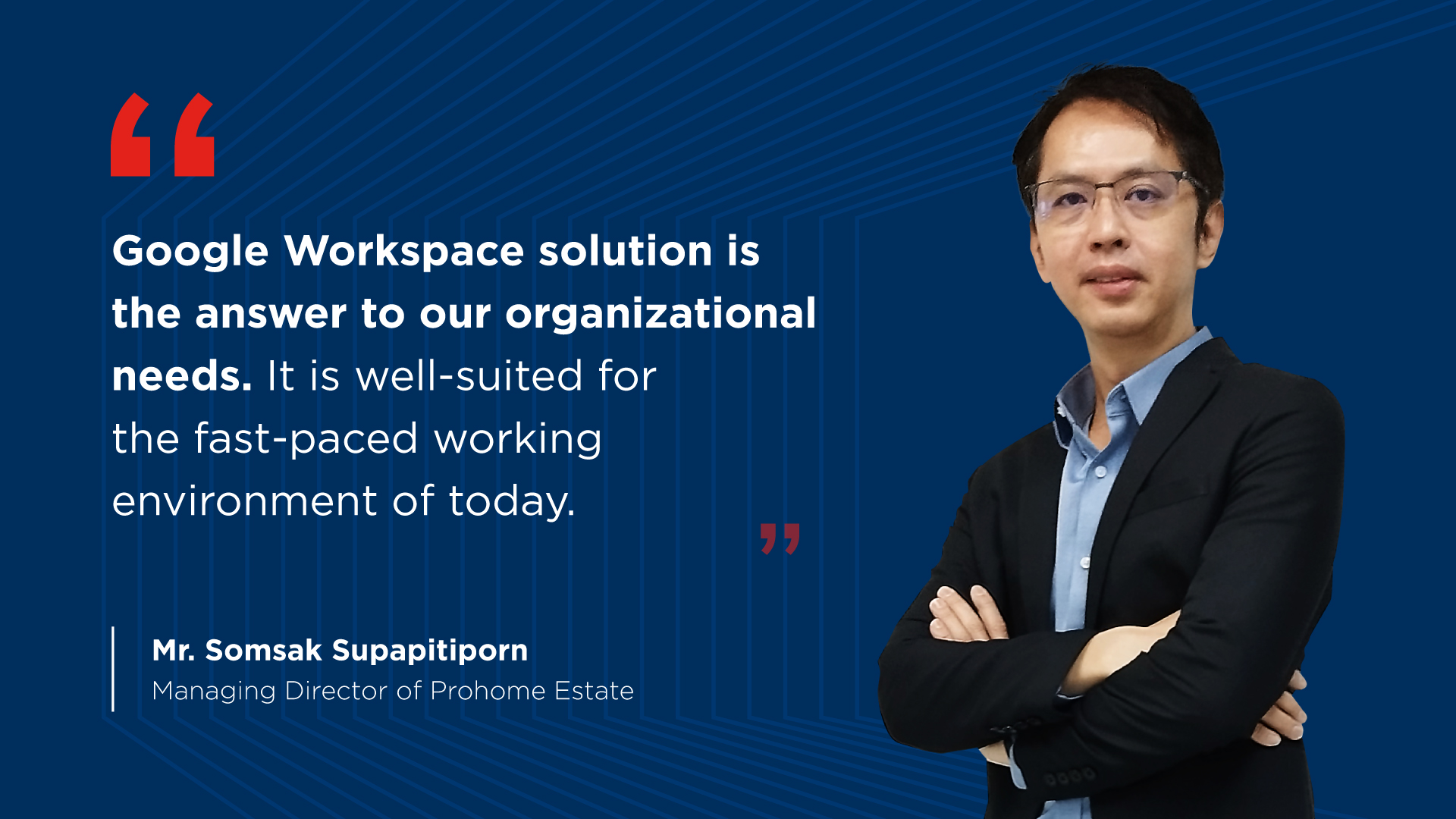 In this day and age, every organization has to adapt to the rapid changes of the world. Many must adopt the work-from-anywhere policy, including real estate service providers such as Prohome Estate. The company picked Google Workspace to be the solution for faster and more efficient co-working and service delivery to its clients. 
Prohome Estate reinvented itself and got ready for the futuristic working conditions. Through the vision of Mr. Somsak Supapitiporn, Managing Director of Prohome Estate, we learned the important reasons why this company chose Google Workspace from True IDC.


Prohome Estate: a real estate industry veteran of over 20 years
Prohome Estate is a real estate buying, selling, leasing, and investment consulting company. The service covered all types of properties such as houses, townhouses, shophouses, condominiums, home offices, office spaces, commercial spaces, and factories as well as lands in Bangkok, Greater Bangkok areas and major cities in Thailand.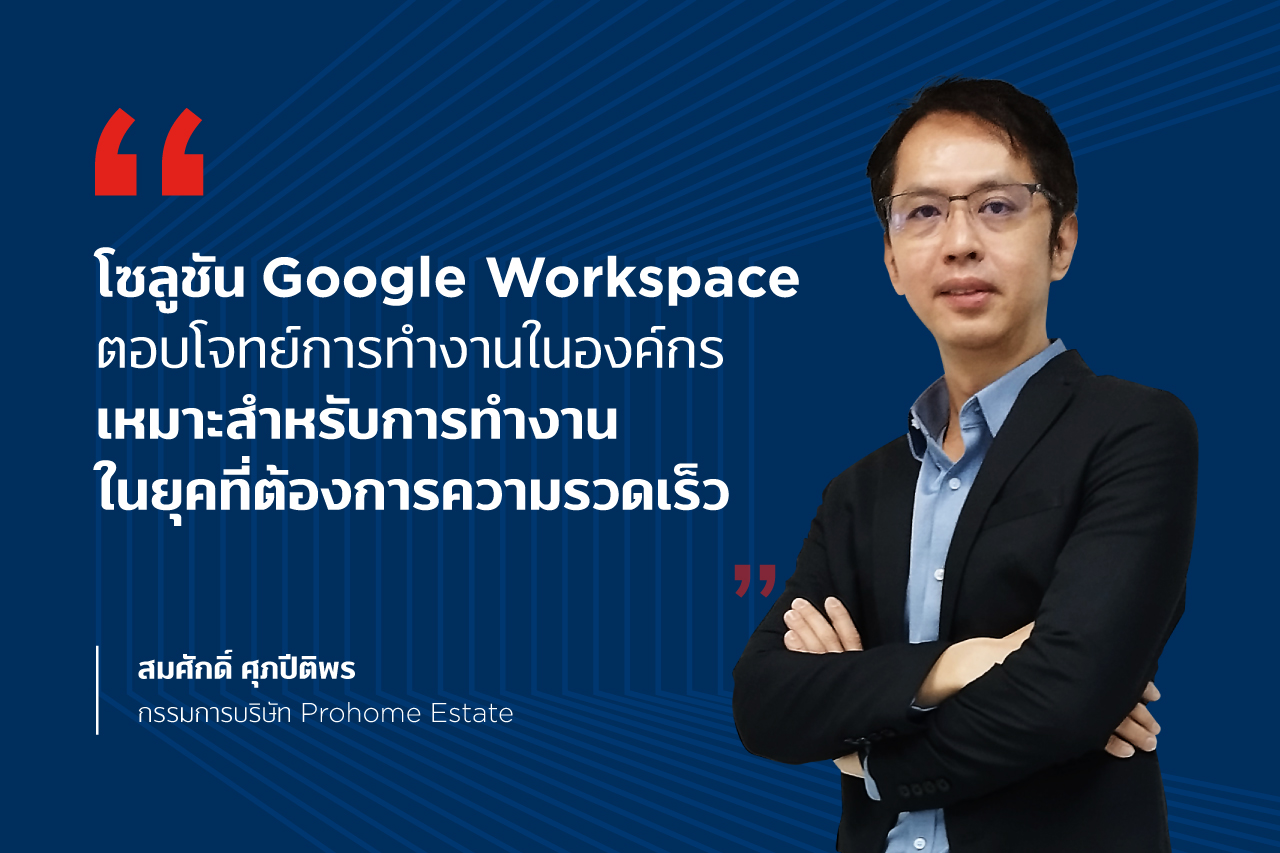 With over 20 years of experience in real estate, Prohome Estate offers multi-faceted expertise that covers all client needs at every level. The services are real estate consultation and management, helping their clients with house hunting, investments and business ventures. This includes joint ventures in real estate development projects for buying and selling, leases, and for repurchases. As illustrated, Prohome is your trusted partner.

The great challenge that pushed Prohome to change
Mr. Somsak told us that there used to be staff overseeing the central IT system for dealings with clients stationing in the office. Meanwhile, the sales team who coordinated sales and purchases would travel to see them. After that, they would come back to the office to gather the documentation for the clients 
But like many companies, COVID-19 brought new challenges to Prohome Estate, mainly because they could not come to work at the office anymore. This complicated the management of documents stored at the physical location. The social distancing policy also barred in-person staff meetings, and the sales team could not travel to see the clients to provide services. 
This became a great challenge for Prohome Estate. If the company didn't act quickly to change its working style, its services and operations would be slowed down. Therefore, the company needed to overhaul its operation and use an approach that allowed both the staff and their clients to easily access the files and data, and let them work together without being restricted by time and place.
"As most of the documents were being kept at the office, Prohome Estate was looking for a way to access the documents and information from outside, allowing our staff to quickly deliver services to the clients just like we did before COVID-19" Mr. Somsak said.


Limitless working with the innovative solution, Google Workspace 

Facing the challenges as explained above, Prohome Estate expanded its team to efficiently satisfy the increased demand of its clients. The company recognized Google Workspace's potential to answer its every need as Google Workspace offers different tools that cover its co-working goals. Not only the tools helped streamline their teamwork, but client-facing work also became quicker and easier. The following are the tools that are now regularly used:
● Google Meet: facilitate online staff and client meetings without worrying about space or equipment. Sales staff who are not in the office can also join the meetings via their smartphones or tablets. Arranging a meeting with the clients has never been this easy before. 
● Google Drive: store documents on cloud. The staff is a click away from accessing and sharing files with clients. No office visit is required. 
● Google Docs/Sheet: readily edit and print any documents and share the files with other colleagues or clients directly. Simplify the process and reduce download or upload time.
● Google Calendar: make internal and external appointments 
● Gmail: send and receive emails seamlessly within the Google Workspace environment
Mr. Somsak thought that when there are tools like Google Workspace that support his staff's operation, they work faster. Communication and coordination are also easier and more responsive. This results in a more efficient operation which increases client satisfaction as they can attend to clients' needs promptly.
"Speed is crucial to customer service today. Prompt and responsive client care will increase their satisfaction" Mr. Somsak said. 
Besides adopting Google Workspace's features that support communication, teamwork, and access to information even from outside the office, Prohome Estate also emphasized the importance of data security and stability. Mr. Somsak is confident that Google Workspace shares his priority with its sharing settings that limit file access to only relevant stakeholders. This ensures the protection of the company's data.
True IDC, the force behind the smooth and seamless Google Workspace
Mr. Somsak talked about the reason why he chose Google Workspace through True IDC: a company and a past client of True IDC's solutions recommended the service to Prohome Estate, citing their pleasant experiences and satisfaction. 
Even though Prohome Estate previously dealt with data transfer and backup issues during a kick-off period, things changed with True IDC. With the skills and experiences of True IDC's team of experts, the client received thorough consultation and support. As a result, the data transfer and backup went smoothly and took little time.
For the new hires who are not familiar with Google Workspace, True IDC team is here to provide training and consultation to make sure that they are ready to work with the Google Workspace tools.
"Google Workspace solution is the answer to our organizational needs. It is well-suited for the fast-paced working environment of today. I'm very impressed with True IDC's services and can confirm that True IDC provides excellent solutions for organization" Mr. Somsak concluded.