True IDC Cloud, the World-class Cloud for Thais
29 Jan 2021 //= substr($strYear,2,2)?>
True IDC Cloud offers powerful compute performance to help accelerate your cloud adoption.
SIGN UP FOR FREE TRIAL of 30 days. Promotion periods start from now until 31 October 2021.
- FREE 4vCPU
- FREE RAM 16GB
- FREE SAS 200GB
Get started your journey with us HERE
What is True IDC Cloud
True IDC Cloud is certified by CSA Stars (Cloud Security Alliance Certificate) and located at True IDC world-class data centers with various ISO Standards i.e. ISO 20000, 27001, 22301, 50000, and is the only data center in Thailand that complied all 3 certificates from Uptime Institute.
Not only, True IDC Cloud brings a better cloud experience to users by giving users the flexibility to manage cloud resources by themselves. it is also domestically located in the country, which means public and private organizations including insurance businesses, financial businesses, and telecommunications businesses can fully comply with the Personal Data Protection Act (PDPA).

Why True IDC Cloud
- Support capacity of up to 4,000 VMs with scalable resources
- Support 2 data center nodes; True IDC-North Muangthong and True IDC-East Bangna

- True IDC Cloud runs on the same network fabric between sites, giving users the flexibility to do Backup and DR.

- Users can self-managed cloud resources

- Provide support from True IDC Command Center 24x7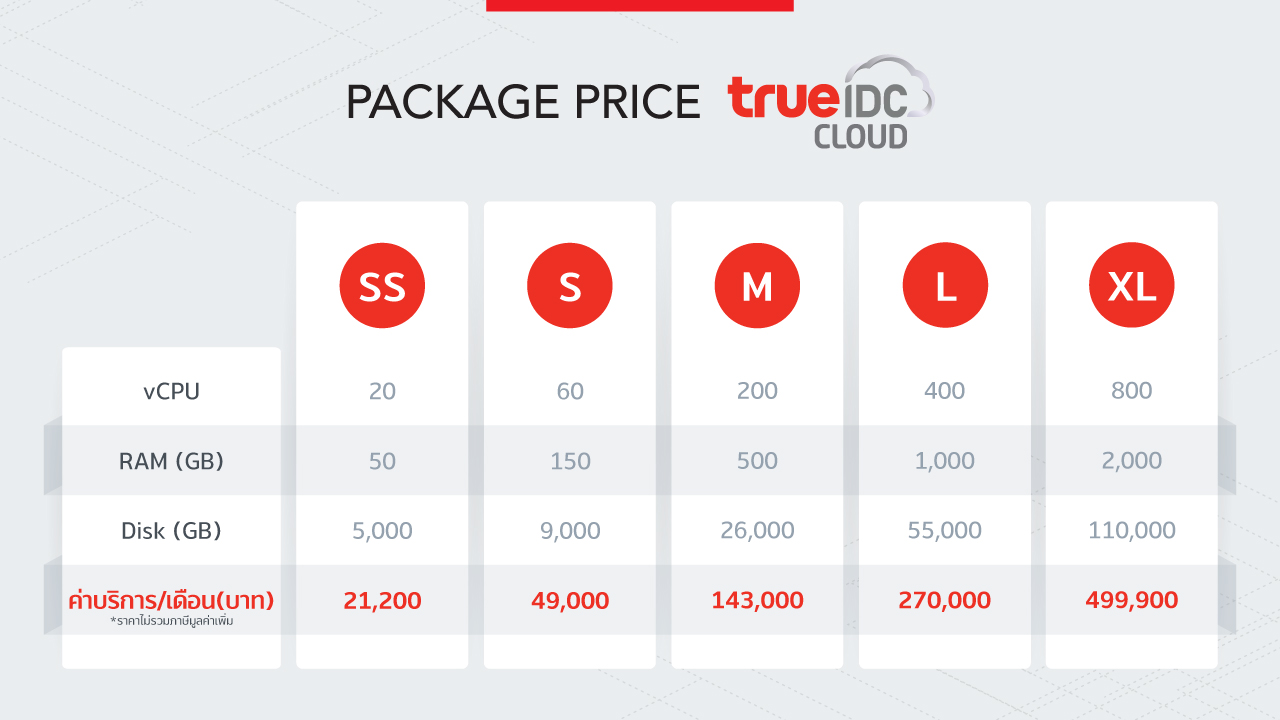 GET ALL FREE! When started True IDC Cloud package

1. Free IP V4 Dedicated Subnet:

1.1 8 IPs for Pool S

1.2 16 Ips for Pool M
1.3 32 Ips for Pool X, XL
2. Linux OS (Windows Licenses can be purchased additionally)
3. Free Installation Firewall NSX Edge on customers' resource quota
4. Free On-site daily backup up to 7 copies
5. Self-Service Portal on vCloud Director
Conditions:
1. A minimum contract of 12 months

2. Promotion applies to new projects only

3. The company reserves the right to change details without prior notice.