True IDC is the first and only one company in Thailand who received award from the Uptime Institute in 2 areas
15 Jan 2018 //= substr($strYear,2,2)?>
True IDC responds to the digital infrastructure development plan to qualify for Thailand 4.0 policy by using technologies architecture with world class design equipment standard quality used in data center services and receiving the Certified Tier III from the Uptime Institute. True IDC is the first and only commercial service company in Thailand who certified 2 areas which including
Tier Certifications in Design Documents (TCDD): recognizes the potential (as designed) infrastructure (topology) functionality and capacity of data center and ensures organization's significant capital investment yields the desired result
Tier Certifications Constructed Facility (TCCF): to ensures that designs have been properly executed in the built facility environment, with no errors or oversights.
With services which is certified 5 standards ISO including with
ISO/IEC 20000-1: IT Service Management standard (ITSM)
ISO/IEC 27001: Information security management standard (ISMS)
ISO 22301: business continuity management standard (BCMS)
ISO 50001: Energy Management Standard
CSA STAR Cloud Security: Security standards for Cloud

True IDC also extends data center services to a variety of Value Added Services with a team of professional consultants to help evaluate the value, analyze, design solutions for creating Digital Transformation. To use the cloud with maximum efficiency, including a large ecosystem that customers can choose to use under one service provider which fully supports all needs.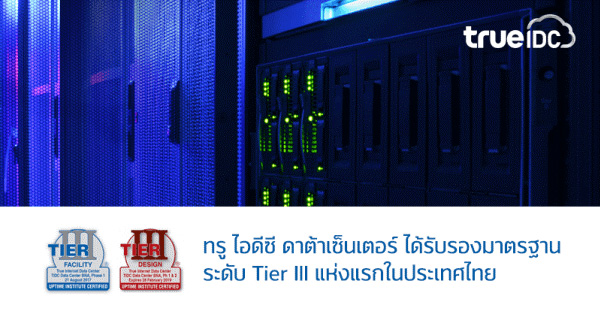 With a far-reaching vision of improving data center quality and the attention in service all the time, causing True IDC to be awarded Data Center for many years in a row. This year, Frost and Sullivan also award 2017 Thailand Data Center Service Provider of the Year to True IDC. True IDC is still determined to develop all potentials of data center and cloud services to serve customer's need. Moreover, to be a part for driving the country's economy to sustainable growth