Introducing 'True IDC Multi-Cloud Suite,' the full-scale Multi-Cloud System
06 Jun 2019 //= substr($strYear,2,2)?>
True IDC, the leading Data Center and Cloud service provider, is ready to introduce the 'Multi-Cloud Suite,' which will help manage and set-up a full-scale Multi-Cloud system. In this digital era, it may be necessary for corporates to have to utilize the services of several Public Cloud and Private Cloud providers. The 'Multi-Cloud' system will help manage all those services to increase convenience and enable corporates to pick the best digital solutions to fit their needs.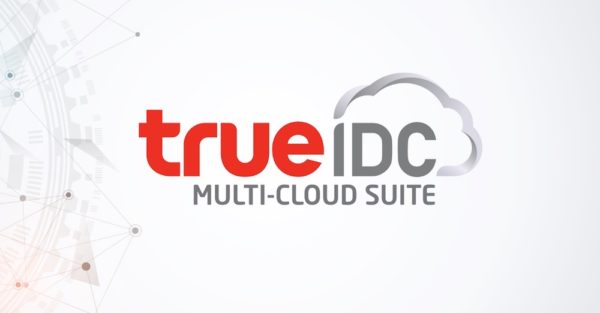 Multi-Cloud: Multi-Cloud: New Innovation for Cloud Services
The 2019 State of the Cloud Report by RightScale states that most corporates around the world utilize the services of at least 5 Cloud services providers on average and 84% of these corporates have laid down the strategy and foundation for a Multi-Cloud system. In the meantime, 'Container' and 'Kerbernetes' have also been increasingly integrated in corporates' applications, leading us to believe that we will see more and more corporates using a Multi-Cloud system as it answers to the needs of corporates and provides more flexibility due to the fact that corporates do not have to depend only on one provider.
"Multi-Cloud has become the future of the Cloud service. Corporates can pick a variety of Cloud services providers, which increases flexibility and lessens technological monopoly, as well as upgrade the efficiency and resiliency of the Cloud service. More importantly, this will help enhance the greatest return for the corporate's investment in the Cloud service," explained Khun Tanat Sangkasem, Chief Technology Officer of True IDC.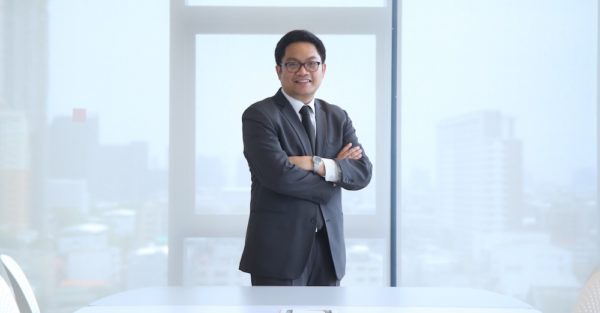 Partnership with Leading Cloud Services Providers to Offer a Variety of Services
Apart from offering Private Cloud solutions for corporates nationwide, True IDC has also partnered up with leading Public Cloud service providers such as AWS, Microsoft Azure, Google Cloud, Huawei Cloud, Tencent Cloud, and others to offer full-scale services including IaaS, PaaS, and SaaS. Moreover, True IDC also has other Value-Added Services such as Backup as a Service, Disaster Recovery as a Service, Load Balance as a Service, Firewall as a Service, Storage as a Service, etc.
True IDC's distinct advantage is its One-Stop Shop which allows clients to select any Cloud service via True IDC to lessen their hassle. True IDC has a team of experienced engineers on standby 24/7 to offer advice, be it an analysis of the client's business needs, design, installation, and maintenance. Clients can rest assure that they will receive Cloud service solutions which best suit their needs in the most cost-efficient manner.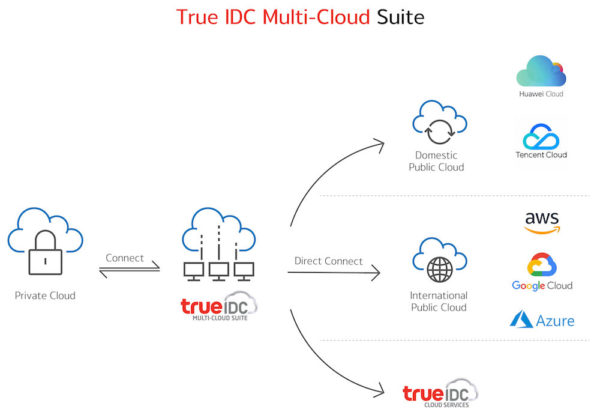 Convenient and Complete with the One-Stop Shop via True IDC Multi-Cloud Suite
The challenge of the Multi-Cloud system is the management and monitoring of the various Cloud services from different providers because it is a complex task which could become costly both in terms of equipment and personnel. To do away with this hassle, True IDC is introducing the Multi-Cloud Suite which is a set of tools and services to help fully manage the Multi-Cloud system. It can also simplify the process of installing and establishing applications via the various Cloud platforms and help in the monitoring of the various Cloud services, be it a Private Cloud or a Public Cloud from any provider through just one center. This would definitely lessen the responsibilities of the corporate's IT team and the application developer team.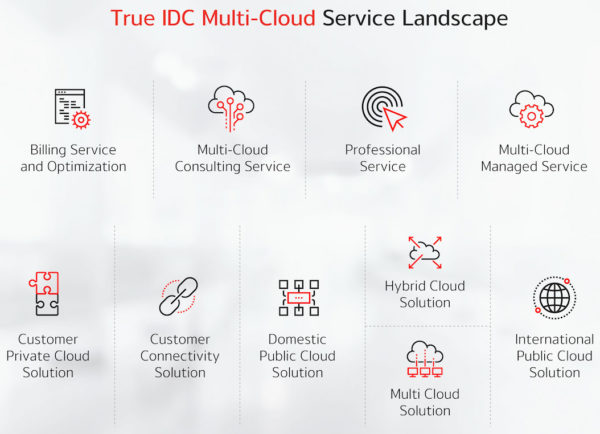 True IDC's Multi-Cloud Suite is made up of:
1. Various tools for the Multi-Cloud system such as:
A Containerized Platform for application developers both on premises or on any Cloud service through the CI/CD development process;
A Multi-Cloud Management Platform which helps in establishing applications on any Cloud service; managing traffic on the Multi-Cloud system; conducting High Availability, Backup, and Disaster Recovery; and monitoring the Multi-Cloud service.
Multi-Cloud Security & Compliance service helps the Cloud maintenance team check the status of the Multi-Cloud system to make sure they are up to standards including PCI DSS, HIPAA, and NIST and offer advice and operational instructions to make sure the services abide by standards and regulations.
2. Consulting Service
– True IDC offers consultations, reviews, analysis of problems, assessment of the infrastructure, and solution design by a team of experienced engineers. With the company's extended knowledge and experience, True IDC's personnel can compare and recommend the right Cloud solution to meet each client's needs.
3. Professional Service – True IDC can install and transfer data to the Cloud through its team of experts and its internationally-standardized process. True IDC also offers a 24/7 maintenance of the system.
4. Multi-Cloud Managed Service – True IDC's Value-Added Services are available for all clients to enhance the efficiency of their Cloud system, such as Backup as a Service, Disaster Recovery as a Service, Load Balance as a Service, Firewall as a Service, Storage as a Service, etc.
5. Enterprise Cloud Service – True IDC offers Public Cloud services from leading providers, including domestic ones such as Huawei Cloud and Tencent Cloud and international ones such as AWS, Microsoft Azure, and Google Cloud. True IDC also provides a direct link to Private Cloud and Enterprise Cloud services for corporates to increase security and triple the speed compared to the Internet connection.
6. Billing Service & Optimization – True IDC will work with clients on billing needs to allow corporates to plan their spending and utilize their Multi-Cloud service most efficiently. Clients can monitor each step of the process by themselves, be it inventory, billing/invoice, optimization, or task automation.
7. VMware Cloud on AWS Added Service
To ensure that clients get the most out of their Cloud services, True IDC is offering VMware Cloud on AWS in Thailand which utilizes the IT Infrastructure technology from VMware under the management of AWS as an alternative in providing a link between the Cloud service and the on-premises Data Center of the client. Corporates can use both systems interchangeably without having to install a new application like before. This seamlessly fuses VMware with the Multi-Cloud system.
Many leading financial institutions, energy corporates, and private organizations in Thailand have started to adopt the True IDC Multi-Cloud Suite. Those interested can contact True IDC for more detail at [email protected] or call 02-980-6611.